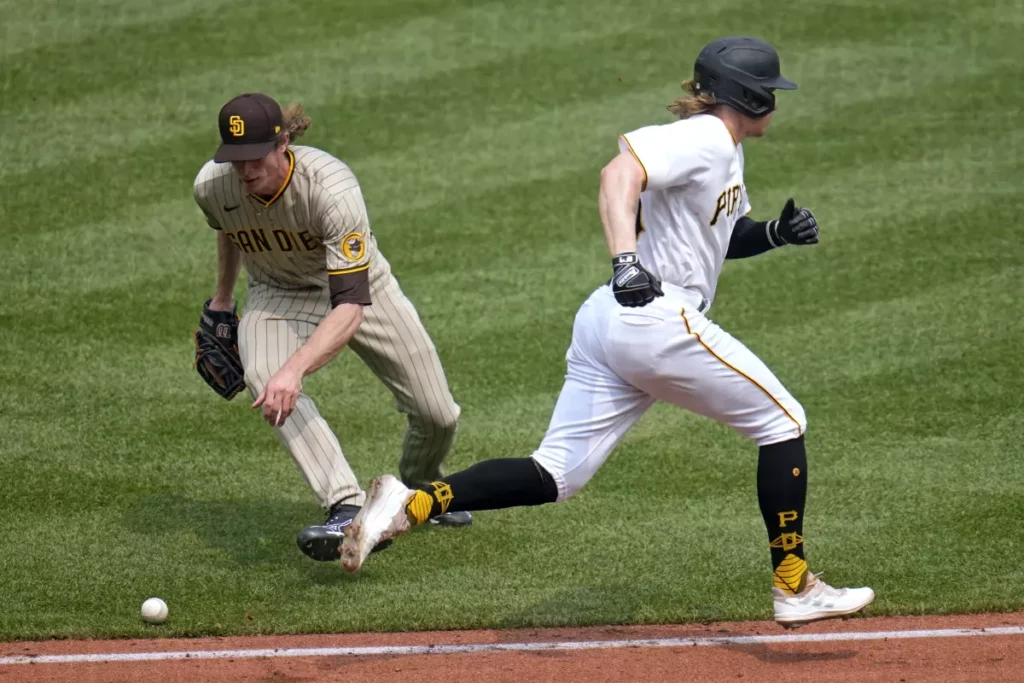 Join Randy Jones, Kurt Bevacqua, Hank Bauer, John Carney and all of your favorite Mighty 1090 personalities on Friday, April 29th for The 2nd Annual Mighty 1090 Open at Riverwalk Golf Club!
Padres blast Bucs behind Pomeranz's 10 K's – MLB.com
Padres starter Drew Pomeranz — who might be in the best form of his career right now — didn't need much offensive support on Wednesday night. But the Friar hitters had some fun anyway, scoring eight times in the first four innings, en route to an 8-2 victory over the Pirates at Petco Park.
Pomeranz set a career high with 10 strikeouts and surrendered just four hits and an unearned run. Matt Kemp launched his fifth homer of the season — a moonshot that caromed off the fence at the back of the Padres' bullpen. Derek Norris and Alexei Ramirez scored twice and added two hits apiece.
VIDEO: Upton Jr. flies over wall to rob Pirates' Joyce
This was one of two incredible defensive plays from the San Diego Padres defense last night, but this is the one that has every talking early about Melvin Upton Jr.'s Gold Glove candidacy in Left Field.
Tyson Ross To Have MRI On Right Shoulder
The Padres' ace hasn't pitched since Opening Day, and now it seems possible that he might not pitch for a very long time, depending on the results of an MRI.
Padres Place Spangenberg On 15-Day DL, Call Up Jemile Weeks
In his first game after being called up to replaced Cory Spangenberg, Jemile Weeks went 1-3 with an RBI. Let's hope he can continue to swing a hot bat, as he did in Spring Training and in El Paso.
After trade, Chargers now on the clock – San Diego Union-Tribune
San Diego will have its choice April 28 between the draft's non-quarterbacks. That became clear Wednesday morning when the Browns and Eagles finalized a trade for the No. 2 pick, the latter sparing no expense to select either North Dakota State quarterback Carson Wentz or California quarterback Jared Goff — whoever is left after the Rams go quarterback at No. 1. This leaves an open table for the Chargers at three.
AUDIO: Jason Verrett On Drive To Be Great, Grueling Workouts, NFL Draft & Winning For Philip Rivers
Chargers CB Jason Verrett joined Darren Smith in The Mighty 1090 studios to talk about his drive to be great, what his off-season workouts pertain of, why he likes defensive line for the Charger 1st round draft and why he wants to win for Philip Rivers.
Gulls Prep For Tough Opponent In Texas Stars
Craig Elsten checks in from Austin as the San Diego Gulls prepare to take on the Texas Stars in the first round of AHL Calder Cup playoffs.